Home
About
Sell Your Note
Investor List
Net Links
Send Email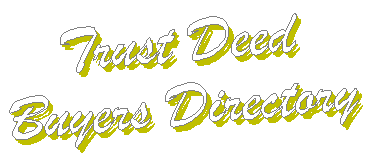 About

The Trust Deed Buyers Directory is a FREE, public service resource for the benefit of consumers, real estate owners and sellers, as well as for the clients of Realtors, lawyers, bankers, and CPAs. This page is a NOT-FOR-PROFIT effort intended solely for the use of consumers who oftentimes have nowhere to turn when faced with circumstances -- many times of an emergency nature. Use of this resource is prohibited for commercial use.

Note Sellers: To find a potential investor, fill out the Note Quotation Form! A copy will be forwarded automatically to interested investors on the Trust Deed Buyers Directory. You'll be contacted by only those interested in purchasing your carry-back investment (note and deed of trust).

Alternatively, you may find an investor in your area by viewing the buyer's list.

If you find this page useful, please inform others who potentially may benefit (your friends, neighbors, associates, as well as the clients of Realtors, lawyers, bankers, and CPAs).

Want More?
Check out the ARCHIVES »

Disclaimer
We do not take responsibility for any contacts made through the TRUST DEED BUYERS DIRECTORY or the resulting actions therefrom. Please note that you proceed at your own risk, must protect your own privacy, and may not take legal action against the owner of the TRUST DEED BUYERS DIRECTORY for any occurrences resulting from using this page.